If you could turn the clock back to 2014 and had a room full of 100 avid oil market followers how many do you think would have been calling for an oil collapse?
I'd bet that it would be maybe a couple.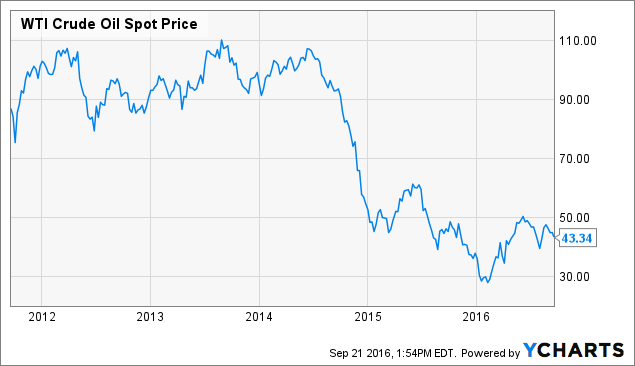 WTI Crude Oil Spot Price data by YCharts
Of those couple of people in that room who were correctly calling for an oil collapse how many of them do you suppose would have expected oil to still be at $45 two years later?
I think you would have been hard pressed to find any.
That is because it wouldn't have made sense. At that time there were a scant few drilling opportunities anywhere that could be developed profitably at current oil prices. Even if oil did collapse it was sensible to believe that the supply response would be swift.
So what happened?
Saudi Arabia, Iraq and Iran. That is what happened.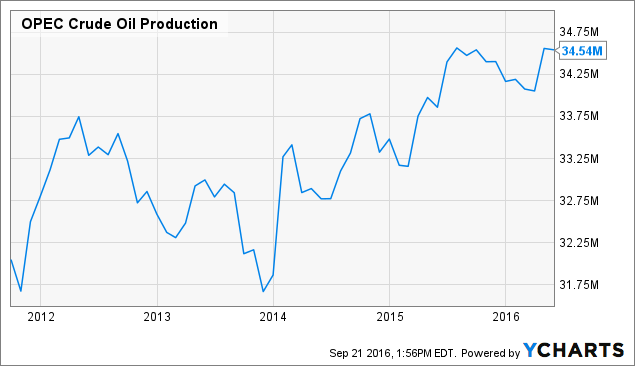 OPEC Crude Oil Production data by YCharts
Since the middle of 2014 OPEC has increased production by close to two million barrels per day. That was more than enough to overwhelm the supply and demand response elsewhere.
OPEC keeping production flat into a declining oil price surprised most of us. These were the guys who were supposed to support the oil price. Not only did they not cut production to support it, they increased production to drive the price of oil down further and keep it there longer.
Here's Why Oil Has to Go Higher … Eventually
I still think that oil prices have to go higher and I think it when it happens it could be significantly so. As to when it happens I have no clue. Here are the five main reasons why I see that price rise eventually happening.
1) Oil demand continues to grow at a very healthy pace. If a person could have gone long oil demand fifty years ago they would have made a very sensible investment. Nothing about that has changed in the last five years.
Despite all of the publicity that Tesla's electric cars receives oil demand continues to march higher by more than a million barrels per day every year.
Continue reading with our friends at Seeking Alpha:
http://seekingalpha.com/article/4007671-5-reasons-oils-eventual-rebound-suprisingly-robust